BEST BODY SPRAY FOR MEN IN 2023
It's undeniable that body spray has become a standard in many men's hygiene routine. But it can be difficult to choose the one that is best for you given the wide variety of fragrances and compositions available.
In the hot summer, a cool scent is like enchantment. The most common reason for body odor which can make you feel unconfident in social circumstances is sweat accumulation. No matter how hot the weather is, body sprays are a quick and simple way to remove odor and make you feel refreshed. They work just as well as an expensive cologne and are comparable to an aerosol deodorant.
What Are the Best Body Sprays for Men to Use?
A prevalent issue on hot summer days is body odor, which is the biggest turnoff for individuals. Body sprays are in handy to handle such a scenario. You can stay fresh all day long and enjoy long-lasting fragrances from them. They quickly combat body odor compared to alternative choices and do not leave behind wet areas. Let's look at some of the key features you need to know before getting your body spray.
Suitability for Skin
Many body sprays on the marketplace now include harsh chemicals and metals that could damage the skin. To avoid any negative effects on the skin, we have only included options that are safe to use. Every choice is gentle on the skin.
Check for the fragrance type
One of the most important things to think about is this. We have listed all of them because there are many fragrances and different people have different preferences. You can choose the fragrance that best suits you from among the ones on our list, which includes a variety of fragrances.
Specification and Features
Prior to including them on the list, we carefully examined the body sprays' characteristics and features. You can discover high-quality, fragrant, long-lasting sprays right here that perform superbly. Below is the list for the best body spray for men in 2023.
Nivea Deep Impact Freshness Deodorant
Nivea's body spray is the perfect way to start the day. Its Deep Impact Freshness Deodorant's anti-bacterial composition prevents unpleasant odor from accumulating on your skin and keeps you smelling fresh all day. This deodorant does not include alcohol for safe use and has a lingering, earthy smell. Additionally, according to the manufacturer, the body spray will last for roughly 48 hours.
Wild Stone Code Chrome Body Perfume
The luxury products from the Wild Stone brand, which is associated with masculinity, speak for themselves. Their Code Chrome Body Perfume Spray features a blend of citrus, woody, and vanilla elements for a reviving fragrance. It highlights your presence everywhere you go and provides you an appealing freshness throughout the day. If you want a fragrance that is impossible to resist, Wild Stone is the only option.
AXE Dark Temptation Body spray
AXE is renowned for producing high-end body sprays with exquisite fragrances and unusual ingredients. The subtle chocolate fragrance of its Dark Temptation body spray grows stronger in response to your body's temperature. This deodorant is harmless for the skin because it was created with Dual Action technology and contains no dyes or paraben.
Fogg Royal Body Spray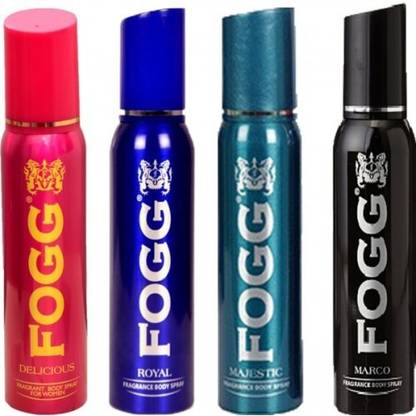 One of the most popular body sprays for men is Fogg. Its Royal Body Spray offers a lasting, invigorating scent that is suitable for men. Additionally, the product destroys the bacteria that causes odors and provides more spray than conventional deodorants. This body spray, which was created with cooling chemicals, gives you a fresh feeling and prevents you from sweating all day.
Denver Hamilton Deo Body Spray for Men
Three of this body spray are packaged together. Its light and delicate lavender fragrance makes it the perfect body spray for usage in the spring or autumn. You won't probably have it for very long. However, it has a delicate fragrance that will undoubtedly make you feel better. Since this is an aerosol, it does contain some gas. It can be applied to any part of the body.
Yardley London Gentleman Range Deo Body Spray Tripack
The three fragrances of this body spray are Royale, Classic, and Urbane. While Classic is a contemporary masculine fragrance that combines black pepper, cardamom, and fresh citrus notes, Royale is a subtle, exquisite fragrance with a regal presence. Likewise, the energetic and flashy Urbane fragrance. To keep active and fresh throughout the day, use this spray.
Envy 1000 Rush Perfume Body Spray
Today, Envy dominates the market and has been producing top-notch body perfume sprays. The company's 1000 Rush Perfume Body Spray is ideal for men who desire to make a lasting impression. You wouldn't need to be concerned about reapplying the fragrance during the day because it lasts much longer. Additionally, as it is alcohol-free, you won't need to worry about it irritating your skin.
Conclusion
Despite being lighter than a perfume, a body spray is equally effective. It enhances the body's fragrance. Only a few of them also eliminate bad odor brought on by sweat and bacteria. The body spray is indeed a man's best pal because, while it does some degree of odor control, its main function is to impart fragrance to the body. Do all your body spray online from ShopBy online mall
BEST BODY SPRAY FOR MEN IN 2023